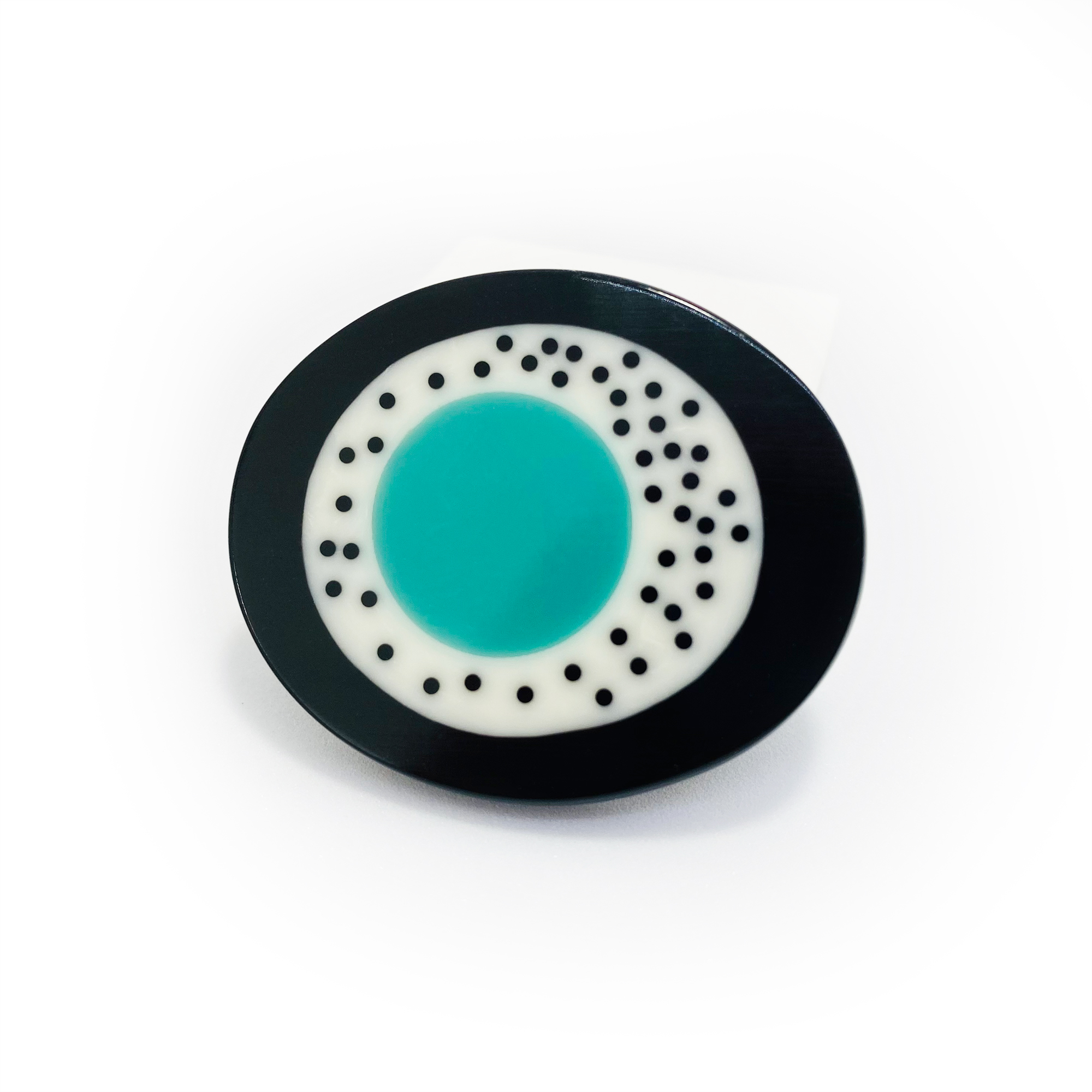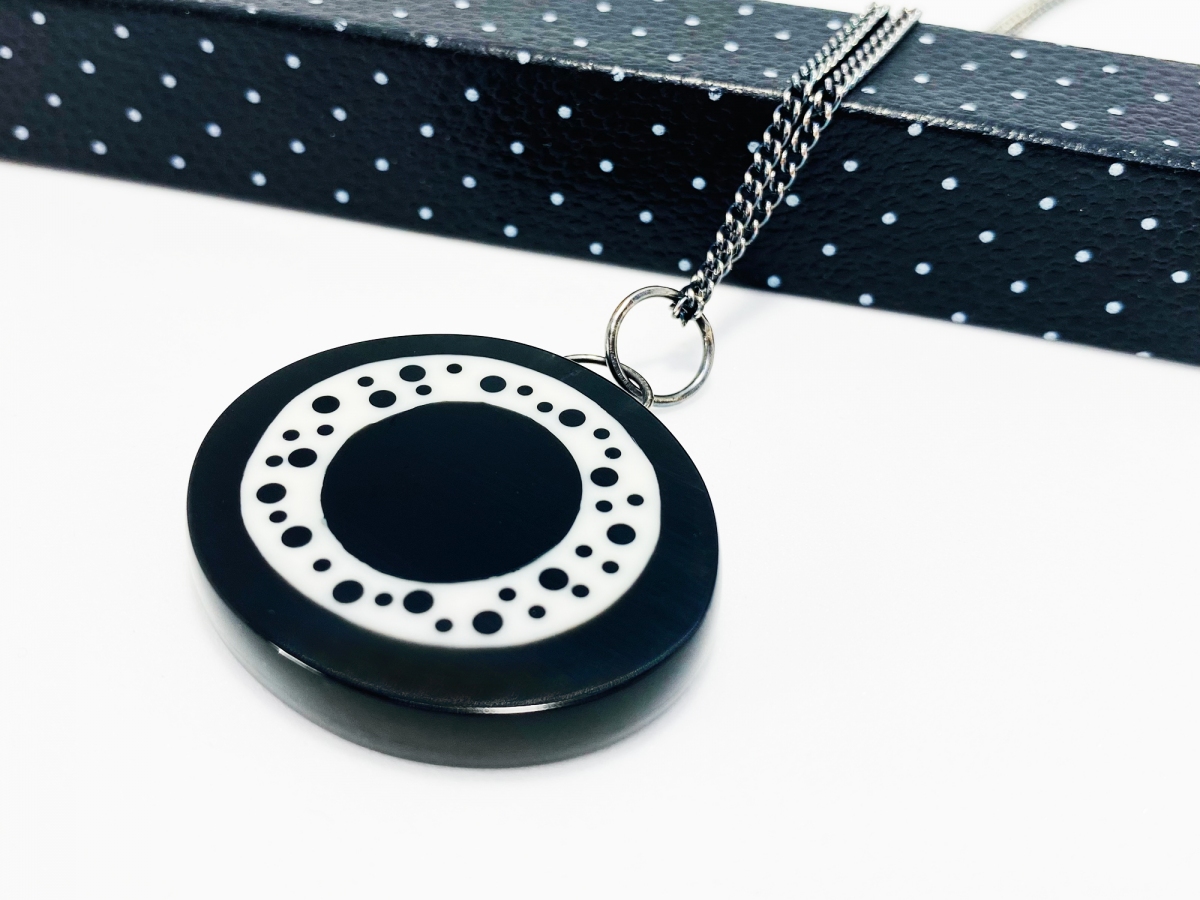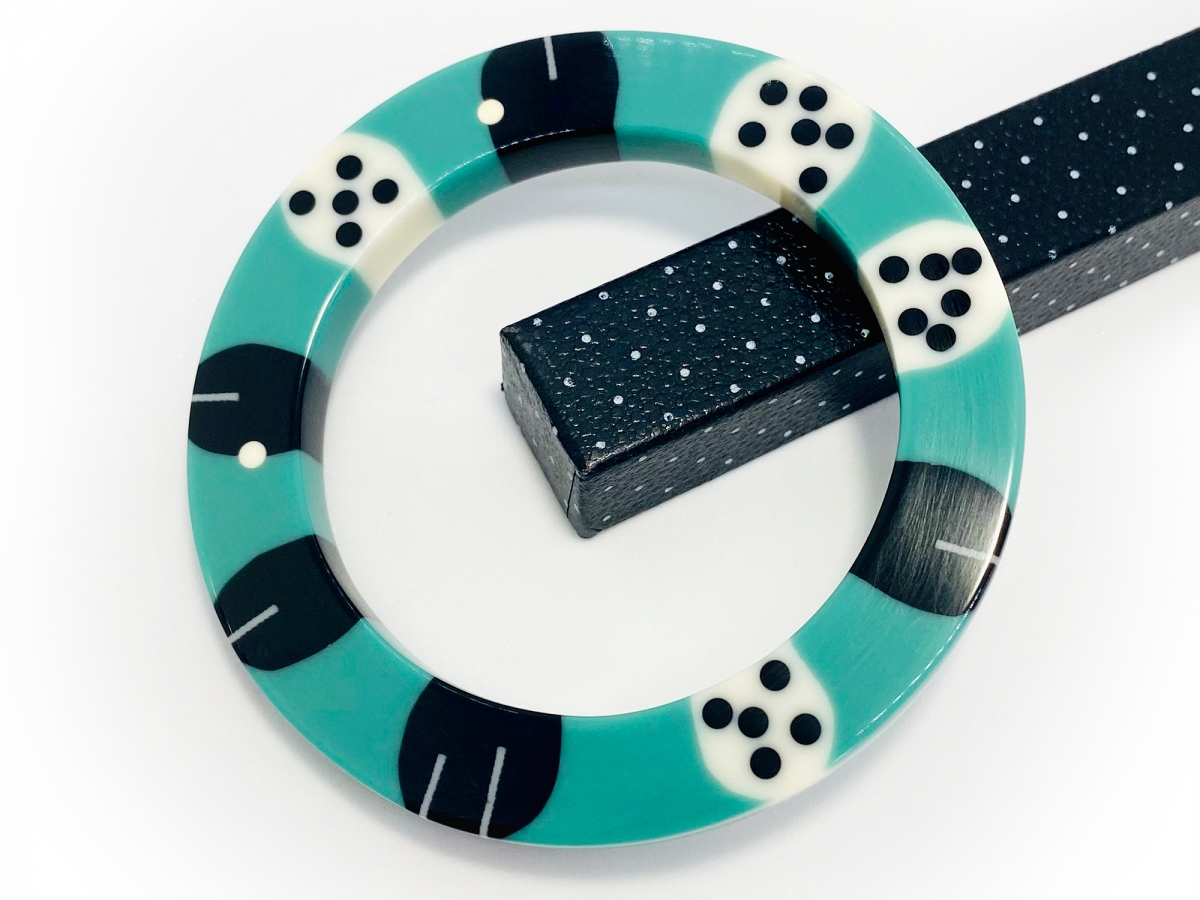 Established in 2009 by French jeweller Cécile Gilbert, Tiki encapsulates a collection of eye-catching contemporary pieces, made from polyester resin and oxidised Sterling silver.

Taking inspiration from vintage Bakelite jewellery along with Art Deco and Midcentury Modern design, she has evolved a distinctive style, focusing on form, tactility and colour.

Cécile handcrafts a wide spectrum of eclectic pieces, from long statement necklaces, striking bangles and slim bracelets to drop earrings, circular brooches and chunky rings.
Each Tiki jewel is meticulously handmade in Cecile's Brighton studio. All are one-of-a-kind, slightly differing in pattern, assuring that your piece is unique.
Cécile trained via part-time classes in plastic at Brighton Art College and silversmithing classes in Chris Hawkins' studio.
She makes her own silicone moulds and mixes pigments to achieve an exclusive colour palette, a selection of beautiful Sage Green, Teal Blue and Warm Paprika contrast against Creamy white and Charcoal Black.
After years of practice and experimenting, Cécile has developed cutout, layering and casting techniques, which allow her to play with geometric shapes and striking motifs.
Each piece is firstly cast in a single colour and undergoes multiple stages of cutting and recasting. Once cured, it is shaped on a belt sander to be then meticulously sanded by hand to a pebble smooth finish or a lush gloss.
By perfecting her original masters, Cécile is able to create various sizes in all bangles and rings, fitting most hands and fingers.
Tiki designs are tactile and lightweight, playful yet sophisticated. The collection is extensive and includes a wide array of eye-catching designs:
- Slim bracelets, dome bangles and flat cuffs (4 to 5 different sizes)
- Elegant long necklaces and geometric pendants
- Eye-catchings earrings: drops, dangles and studs.
- Geometric brooches (For her & him)
- Statement modernist rings (various sizes)
Cécile's aim is for the wearer to enjoy the feel and colour of her pieces on their body: The dangling of drop earring, the soft touch of bracelets against the skin or the splash of colour at the end of your fingers.
Tiki by Cecile Gilbert
---