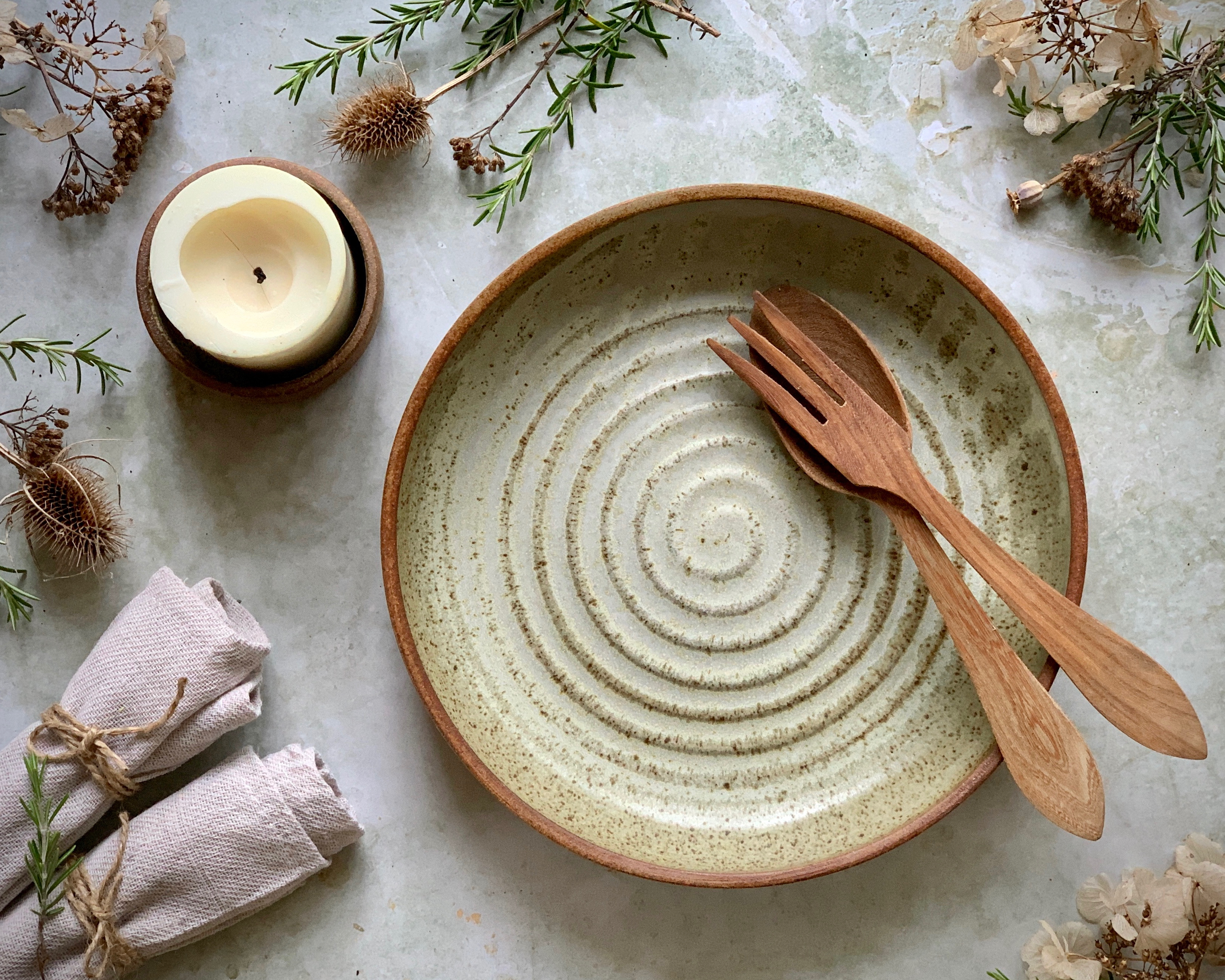 Individual hand crafted ceramics to sit comfortably in your hands and home.
For me, handmade ceramics offer the incredible opportunity to make truly individual and distinct objects from the subtle marks and shapes made by my hand to organic earthy glaze finishes from traditional firing techniques.

I've always enjoyed the process of creating and I was instantly drawn to the slow gentle rhythm of making pots. There is something quite amazing about using my hands, a few simple tools and heat to transform a humble lump of mud into a beautiful yet useful object that will last for years. A few years ago, someone said that 'My Craft Found Me' and on reflection that is exactly what happened. My love of clay is more than just the creativity - as a farmer's daughter I have always felt a strong connection to the ground beneath my feet and see that clearly reflected in finishes I'm drawn too, the materials I use and the type of pots I make. Simple yet comfortable, honest and functional, earthy organic styles that show the clays character.
Working in stoneware, each piece is thrown on my potter's wheel, finished and decorated by hand before being glazed and prepared for firing. My designs include soft gentle curves to wrap your hands around to tactile dimples. I use traditional techniques including hand pulling handles which are then cut and shaped to each individual piece.
I have always been drawn to a gentle earthy colour palette and have created my range of glazes to reflect the natural colours and textures around my studio. The Shades range of glazes are all created and mixed by me at the studio - the whole process and magic of making your own glazes fascinates me and I am always looking for new combinations to create that depth and interest.
I am very lucky to be able to make wood-fired collections, thanks to being part of a local group of potters who fire a couple of times a year. This traditional technique that is now only used by a few potters. It's a labour of love as each firing can takes days, yet whilst its fraught with uncertainty, the beautiful individual and unique pots that emerge are worth the effort. Organic earthy finishes from ash circulating in the kiln landing on the pots to create beautiful speckles and glaze effects while flames 'toast' unglazed clay surfaces.
"Most of all, I love making things that have purpose, that can be used and enrich the everyday"
Nix Hawkins Ceramics
---