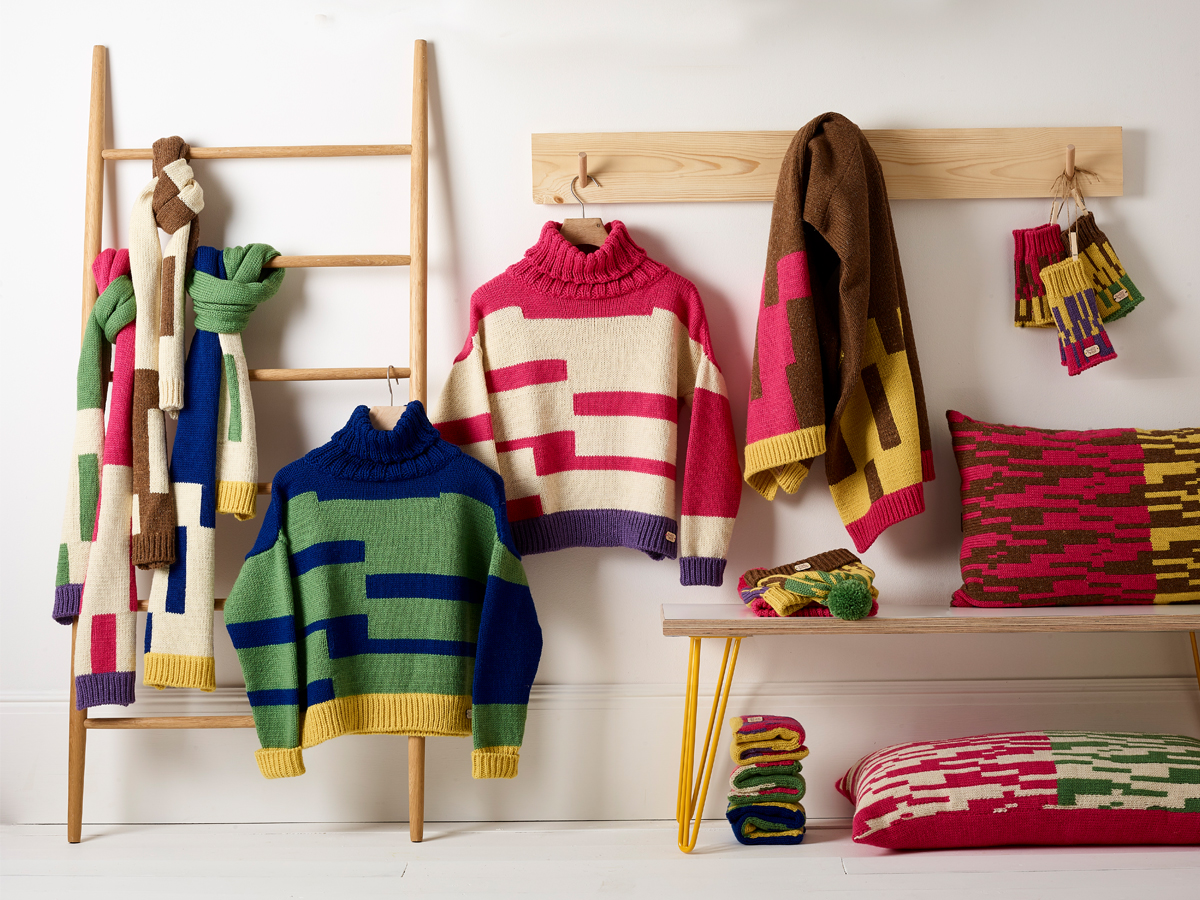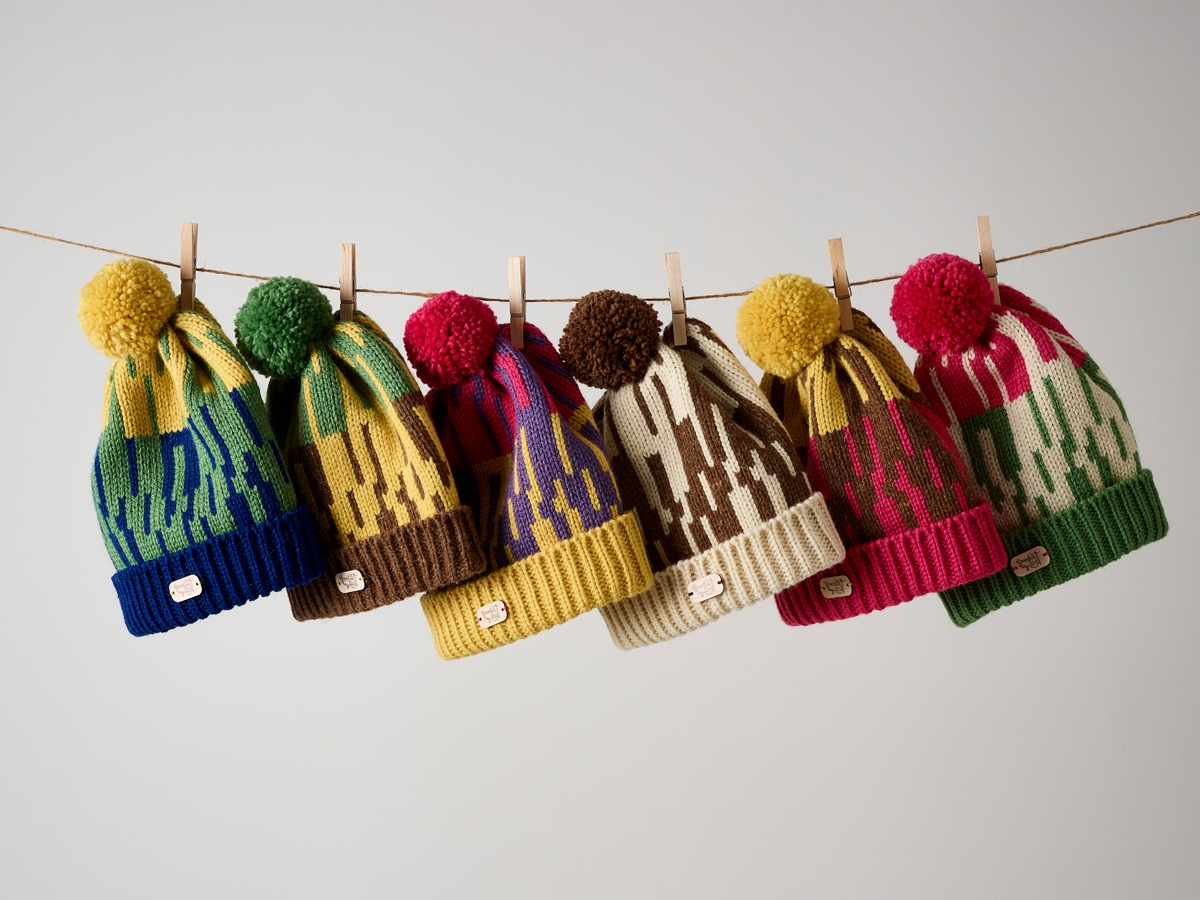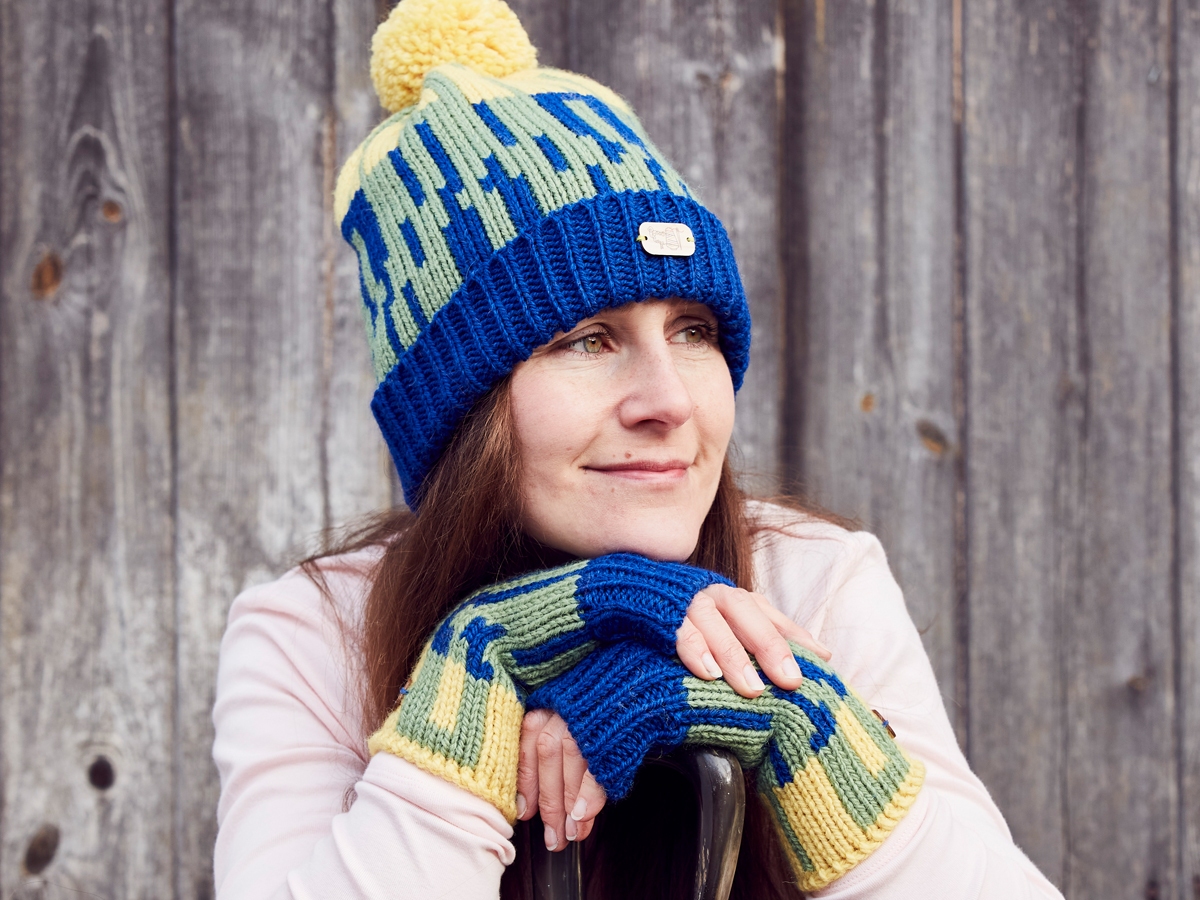 My contemporary knits are created for the sustainable wardrobe and home. Handmade in my Cotswolds studio using the wool from my flock of sheep, they are distinctive and authentic, with bold patterns and eye-catching colour. After shearing I take my wool clip to a mill in Cornwall where it is spun into yarn. It is either dyed organically to ensure excellent environmental credentials, or left undyed to showcase the natural ecru and mocha my sheep's fleeces produce. All my knits are designed, handmade and finished by my own hands. I use a manual knitting machine and for my larger block patterns utilise a technique called intarsia. My collection includes garments, fashion accessories and homewares.
I bought my first sheep in 2011 determined to add value to their wool. Our wool industry struggles with competition from cheap, synthetic fibres and I'd heard many stories of farmers burying worthless fleeces. I was convinced that marrying the right wool to the right product, whilst giving provenance, traceability and beautiful design could be a solution.
There is nothing like assuring the quality of your raw material than growing it yourself. My contemporary knits, created for the sustainable wardrobe and home, are handmade in my Cotswolds based studio exclusively using wool from my flock of rare breed sheep. After shearing, I take their fleeces to a mill in Cornwall, where it is spun into a chunky knitting yarn. It is hank dyed to GOTS standards to ensure maximum softness and environmental credentials.
Some of the yarn is left undyed, which I use in my Fibreshed accredited collection. Produced exclusively within the South West England region using fibre from my flock; farmed regeneratively, processed minimally and artisanal made; it offers 100% biodegradable textiles that at the end of their lifetime can decompose and enrich soil microbiology, interlacing textile production within the natural carbon cycle. It is currently one of only two Fibreshed accredited garment collections in the UK.
My work with the flock immerses me in the outdoors. As a designer I see the beauty in the simple and constantly take inspiration from my surroundings; a hedgerow bursting with colour and wildlife or the ageing roof rafters of an abandoned woodshed. All my knitted products are designed, handmade and finished by my own hands. They are distinctive and authentic with bold patterns, eye-catching colour and original character. I use a manual knitting machine, no electricity is used, and employ a technique called intarsia for my larger block patterns, all of which require careful hand finishing.
I have recently launched a collection created as the final Masters Project for my MA Design: Fashion and Textiles. The journey for the final module in particular, has focussed on enriching my practice as a knit designer and maker, to produce a collection that is unique in both its design and brand story. My products range from garments, fashion accessories and homewares and include jumpers, bobble hats and wrist warmers, to blankets and cushions.
​Provenance and traceability are very important to my work. Everything I sell includes a product specific QR code giving full details of the production journey. Each yarn colour in the product is broken down to include details like; the date the flock was sheared, by whom and where the sheep were grazing at the time. In addition, it details when and how the mill processed the fleeces, any dye methods used, as well as the time and techniques put into making it. By offering total transparency on every single stage of production, my intention is to truly connect customers to what they've bought and the skill involved at each stage; encouraging more questions about the making journey for everything we buy.
Loopy Ewes
---