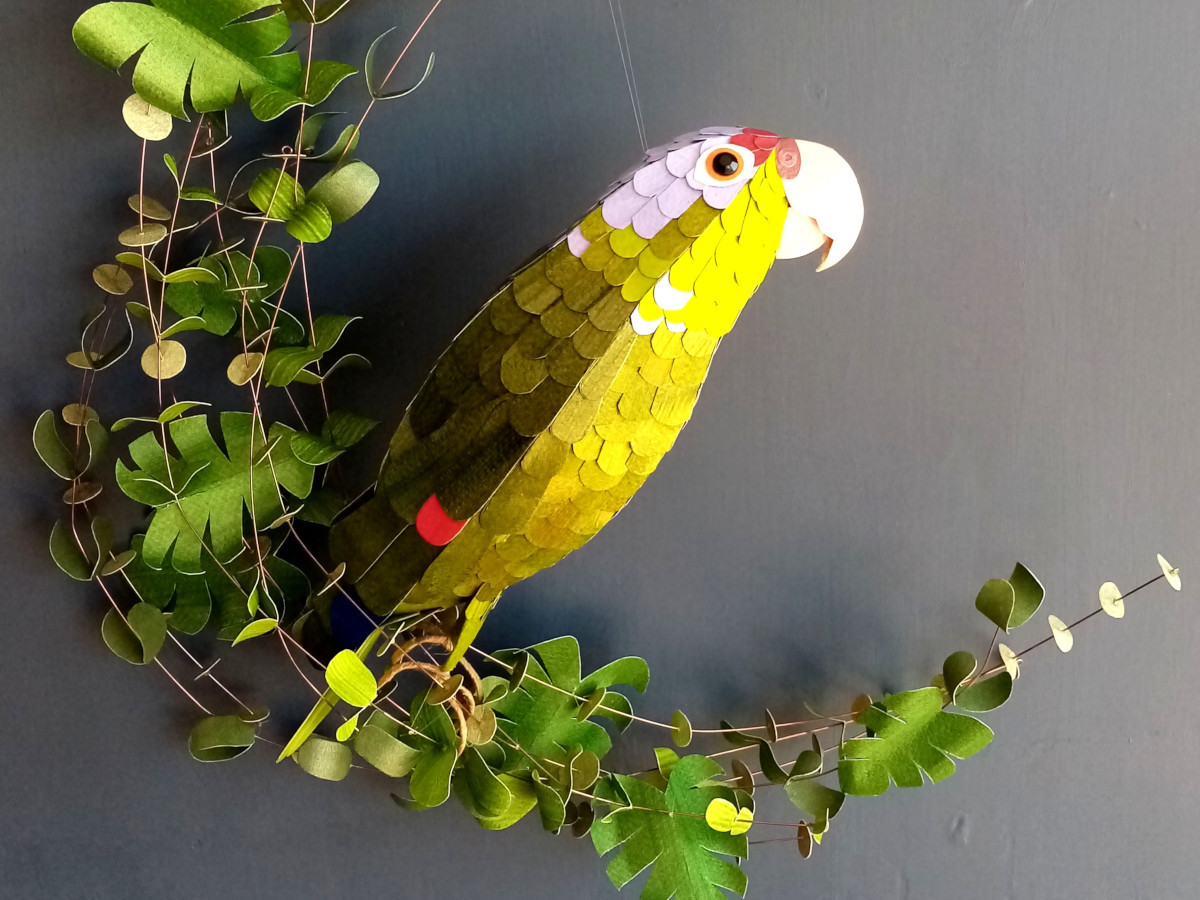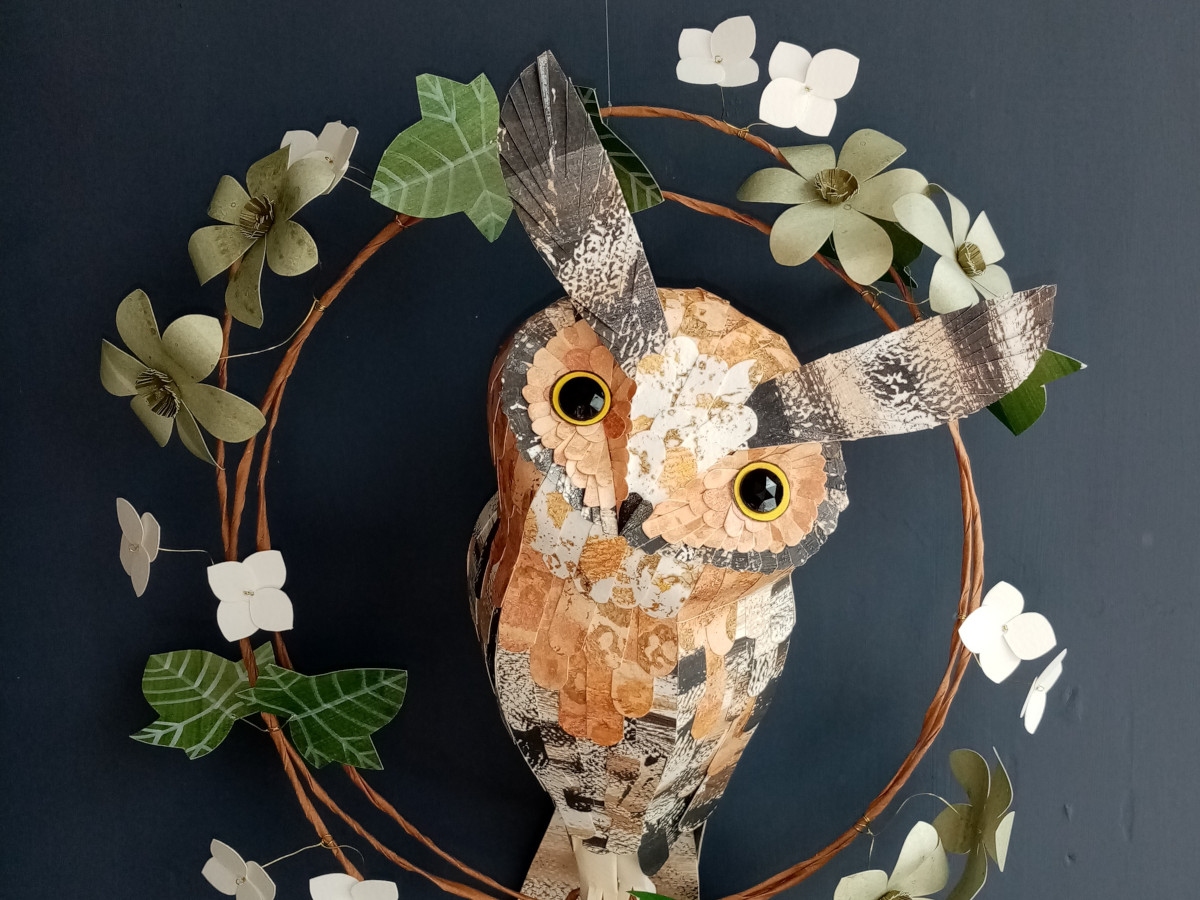 Kate Kelly designs and makes a paper sculpture menagerie. Her pieces are mono screen printed, a process that ensures each piece is unique. Birds and flowers are her favourite subjects, creating freestanding pieces and wall hangings in a woodland theme.
Kaper is the business name of Kate Kelly, an award winning contemporary craft maker, paper artist and print maker based in Manchester, England.
Kate designs and makes a paper menagerie of woodland wall art, freestanding bird sculptures and paper flower bouquets. While primarily a bird artist, she does make other creatures too and is open to commission.
Kate's love of print making began on her foundation course when she was 18. It was the first time she had ever used a printing press and she found it such a joy to build on drawings with textures and patterns. After her degree in Design: Crafts, she began designing paper sculptures, incorporating screen printing techniques. She's been making animals ever since. Her very first job was in the summer after graduation, where she built life size furniture sculptures for the flagship store of Harvey Nichols in London. Her display was featured as an example of great window dressing in the Channel 4 program Mary Queen of Shops. She went on to win several awards at The Great Northern Contemporary Craft Fair and held an open studio shop at Manchester Craft & Design Centre, until she decided to move on in 2020. She was recently featured on Granada Reports for her contribution to 50 Windows of Creativity, an initiative that featured 50 artists in window displays across Manchester. Kate was delighted to have her window at the fabulous Manchester Museum.
Kate had a studio which was open to the public for many years. Frequent visitors were city workers, who often remarked on visiting the studio for a moment of sheer joy between their hectic schedules. This is exactly what Kate hopes to evoke in her work, bringing cheer to your décor. Her work has been featured in various magazines over the years, including Country Living and Vogue.
KATE'S PROCESS
Every part of her making process is done by hand, transforming her sketches to unique sculptures.
Kate begins with doodles in her sketch book, before working out a template for a three dimensional design. This is her favourite part: working out the maths, armed with sellotape and a protractor. Once happy with the shape, she prints the template onto 300 gsm recycled watercolour paper. She then uses a blank silk screen to draw individual patterns and textures onto the paper. This process ensures each sculpture is unique. The prints are cut out by hand and glued together. Once built, the sculpture may require extra embellishments, such as feathery hair dos or steel wire feet. They are then varnished with a UV protective lacquer and finished with rhinestone eyeballs.
Kate's favourite part of the process is designing, so new fellas are constantly being added to the menagerie. She has been in business for 15 years and participates in exhibitions and shows across the country. She has also recently started delivering occasional online workshops and a weekly art club.
A LOVE OF PAPER
Kate spent three years experimenting with wood and plastics and metals during her degree. These materials were fun, but Kate found it difficult working within their limitations. Her prototypes were always paper. Paper seemed limitless. It will bend and shape in every direction. It can be strong and fragile simultaneously. It takes colour and textures in any way you can imagine applying them. It is also ordinary and unassuming- we have all made a paper boat or an aeroplane! There are also so many options for creating work with very little environmental impact. Her designs begin as a doodle in a sketchbook and it pleases her that the same material is used for the finished piece.
A LOVE OF ANIMALS
Kate loves the idea of living in the wood, at one with nature, among animal pals, like Snow White or Tarzan! Animals have always been an important part of Kate's life. She's a bit of an introvert and finds cats much easier to talk to than humans! It might be that her affinity for animals is in her genes- her grandad was a zookeeper at Belle Vue Zoo in Manchester. As a child, Kate was obsessed with the peregrine falcon and has always been fascinated with birds. Two years ago she took on two Senegals from Birdline, a charity for abandoned or mistreated parrots. But by in large animals belong in the wild and so Kate creates sculptures in their honour. We can't keep a beautiful barn owl in our living room, so she makes paper versions to spread a little joy of them instead.
ENVIRONMENTAL IMPACT
Kate aims to run as environmentally friendly business as she can, and all of her materials are vegan. Paper used in her sculptures, postcards and card for her packaging all comes from recycled stock. Parcels are wrapped with paper ribbon and sealed with paper tape. Kate aims to strike a good balance between aesthetically pleasing and environmentally conscious.
Kate lives in Manchester, where she screen prints, designs and builds her sculptures in between playing with her two rescue Senegal parrots, Sam and Pidgeon. When she's not making sculptures, she's building toys and play gyms for these delightful rascals.