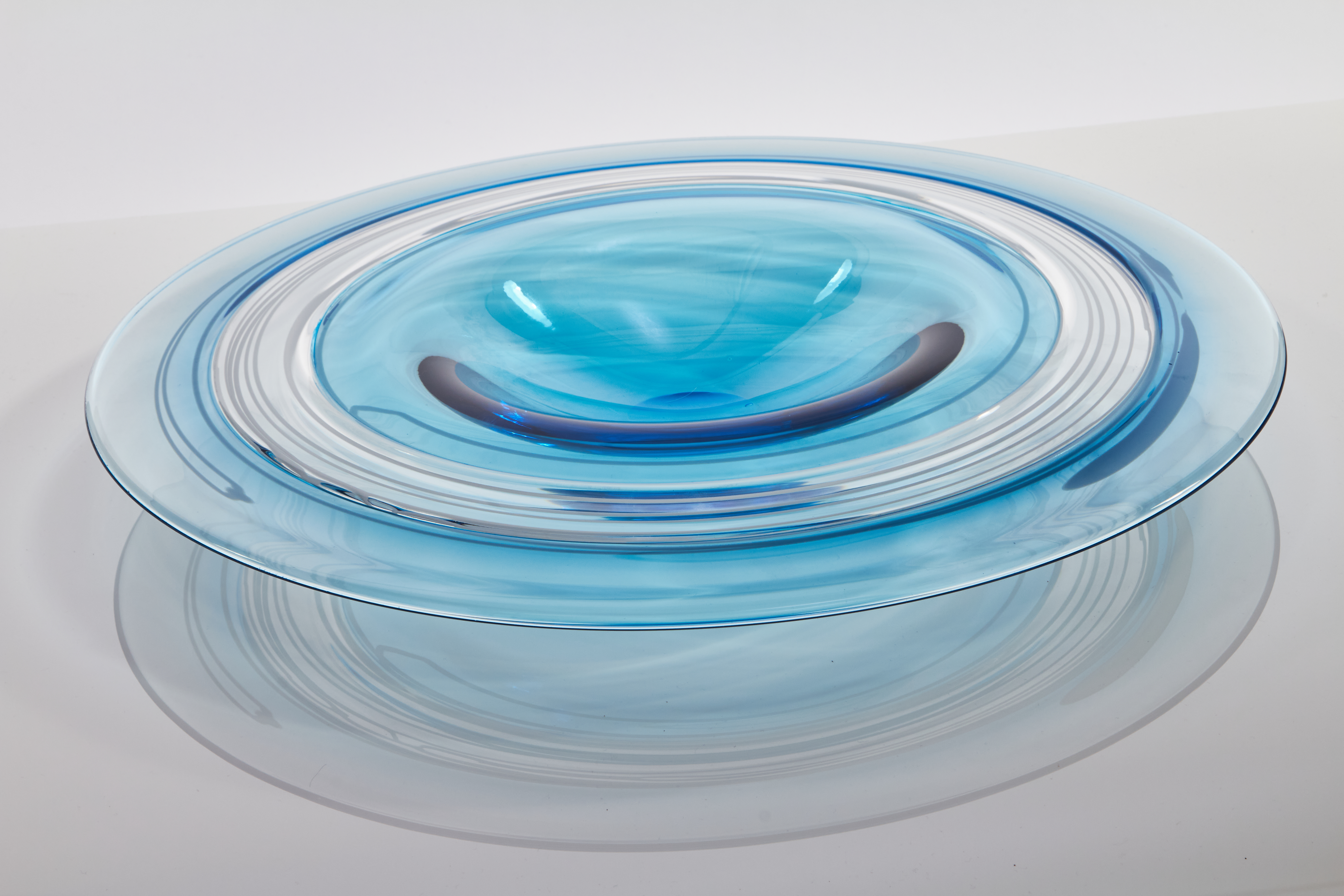 Jess Davids is a designer-maker specialising in glassblowing. Fuelled by her wanderlust for the natural world, Jess weaves her inspirations into enchanting creations. Taken by the beauty of light, Jess embraces the transparent nature of glass. Each creation becomes a vibrant interplay of reflections.

Driven by a commitment to sustainability, Jess conscientiously acknowledges the environmental impact of her practice. Embracing the ethos of reimagining and repurposing, she gathers her discarded remnants, transforming them into new pieces of art.
Crash:
Inspired by a trip to Cape Verde, where she was mesmerised by her surroundings. Jess' designs originate from a fascination with the ocean and the powerful forces of nature. The waves rise, fall and crash as it reshapes the land to its will. She imagines these motions as she applies the design to her pieces. Drawn to the sea, with red flags that warn of danger, recreating the exhilaration of working with glass.
Incalmo Technique:
The joinging together of two seperate pieces of glass, while hot. This technique feautures heavily in Jess' work.
Recycled Glass:
Jess transforms the shattered remnants of glass into stunning works of art. With a passion for preserving the beauty within broken glass, Jess diligently collects these fragments until she has amassed a collection of harmonious pieces.
These delicate shards undergo a transformative process within the kiln, reaching an intense temperature of 540 degrees. A gather of molten glass is carefully introduced, entwining with the rekindled shards. Suspended in midair, gravity becomes a master sculptor, shaping the pieces organically.
Memorial Glass:
Jess carefully creates a range of memorial keepsakes, to help you celebrate the memories of your loved one. These pieces are created by encapsulating the ashes of a loved one or pet between two layers of glass, creating a beautiful custom piece. Her range includes robins, paperweight, hearts and jewellery and is happy discuss alternative designs.
Further information can be found on Jess' website.
Upcoming Shows (2023):
29th September - 1st October, Handmade in Highgate, London.
5th October - 3rd December, International Bienniele of Glass, Sofia, Bulgaria.
14-15th October, Festival of Craft, Farnham.
10-12th November, Lustre, Nottingham.
Full list of events and stockists can be found on Jess' website.
Jess Davids Glass
---