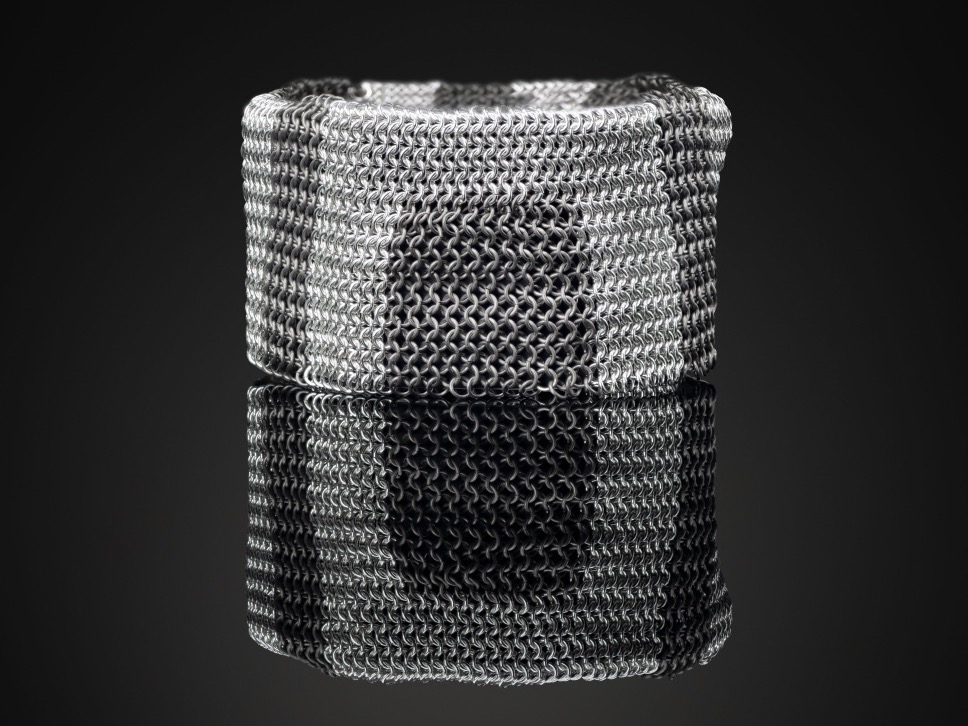 Corrinne Eira Evans Contemporary Jewellery.

Bespoke handmade jewellery using the technique of flat chainmail utilising recycled precious metals and responsibly sourced gemstones.

Inspired by the surrounding Dartmoor landscape, Corrinne handcrafts and 'weaves' each link together to form a draping, fluid metal fabric depicting geometric patterns echoing the moody moorland.

Corrinne's distinct style is created into wearable jewellery pieces; rings, bracelets, necklaces, brooches and earrings.
Corrinne is fascinated with the exploration of the heritage technique of flat chainmail. Focusing on utilising a combination of raw recycled precious metal colours and interlocking them in bold and subtle patterns in the construction of a flowing tactile metal textile, making wearable contemporary jewellery with timeless appeal.
Connecting the inspiration of Dartmoor and it's assimilation to the contours of the body. Making from top quality ethical materials to fabricate wearable every day, and one of, high end contemporary jewellery pieces, to include; earrings, bracelets, necklaces, bangles and brooches.
The combination of recycled golds, silver and titanium create a sensual soft palette, encouraging wearabilityof the pieces. Using these metal choices also echoes the connection to the land, particularly Dartmoor, reflecting Evans' habitat in Devon.
The silver and golds act as a shimmering presence within the matt grey of titanium & dark of the oxidised silver. A contrast that leads itself so beautifully to the overall unique designs she loves to produce. Every ring is constructed individually and meditively 'knitted' together in an absorbing process of flat chainmail, an important core to her designs, maintaining a connection with the human handcrafted quality that enriches each jewelry piece.
Last year Corrinne was delighted to exhibit at the prestigeous Goldsmiths' Fair in London for the Fairs special 40th anniversary - www.goldsmithsfair.co.uk . The fair gained Corrinne numourous press editorials including British Vogue, chosen by Vogue's jewellery & watch director Rachel Garrahan as 'One of Five best Jewellers at Goldsmiths' Fair' 2022.
You can visit Corrinne and watch her making in her Gallery, Moon & Moor, in Devon. Here she carries out jewellery commissions, bespoke wedding rings, contemporary engagement rings, jewellery repairs and of course her own jewellery designs.
Fair Trade Registered Goldsmith
Corrinne Eira Evans Jewellery
---