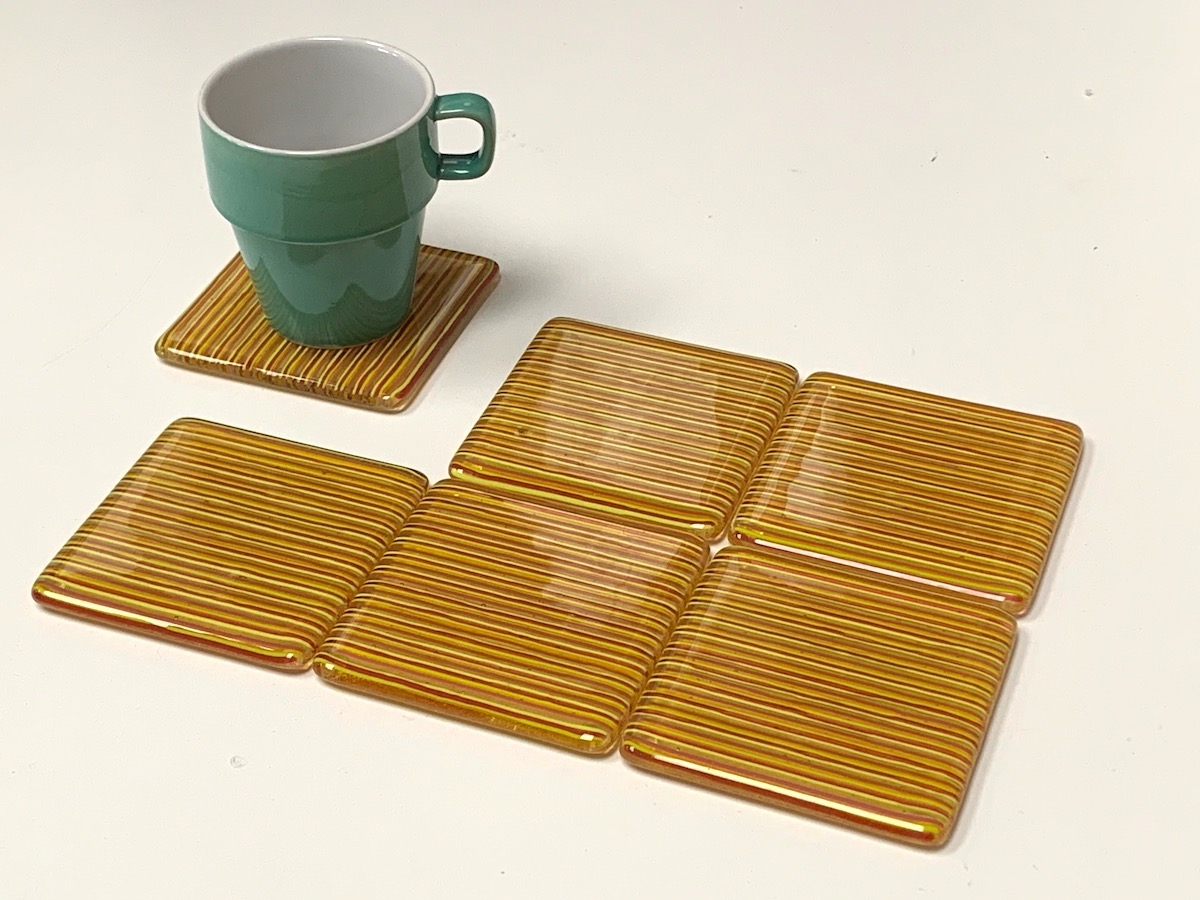 I design and create kiln-formed glass art for a variety of different markets. These include artworks for galleries, craft fairs, private and corporate commissions and digital selling platforms.
I also have a small gallery that I use to display and exhibit my artworks and showcase art from local artists and makers.
At the age of 29 I decided to have a change of career from working in the Catering and Hospitality industry. I went to study full time at Coventry University for four years. First I did an Art and Design foundation course, followed by a Contemporary Crafts degree.
On my foundation course I found my passion for working with glass processes. Unfortunately there was no glass department, so I did some external courses in glass blowing, cold techniques and kiln work. I loved the kiln-forming, so I started to experiment with using float glass in ceramic kilns, which wasn't ideal.
In my final year I had a studio built at the back of our garden in Coventry, purchased my first glass kiln and started my creative business. It was at this point that I started to use 'Bullseye' glass in my making, I just love how vibrant the colours are and the range of their products that they offer.
I graduated in 2008 with a 'First' and I was the overall winner of a student design competition with Volvo Group UK. I was commissioned to design and create a site-specific installation for the foyer of their head offices in Warwick, this kickstarted my corporate and large scale artworks.
In the first few years of my studio practice I was developing my first collection 'Interference' which was made from glass sheets and 1mm stringers (rods). My designs were inspired by abstract geo-metric patterns and cityscapes, these became my signature collection. I exhibited my award winning artworks at the Craft Council's Origin, through craft galleries, online selling platforms and at Contemporary Craft events, like the Contemporary Craft Festival.
In the early part of my creative career I worked on a public commission for the Cultural Olympiad called 'Godiva Awakes'. This was an amazing project to be involved with and was very different from my usual commissioned work.
My most exciting job to date, was my art residency at the 'Engineering and Computing Building' on campus at Coventry University. Over a number of years this gave me the opportunity to work alongside archaeologists, architects, building contractors and university staff. To create the final twenty-four panels of kiln-formed glass, we relocated my business to the Custard Factory in Digbeth, Birmingham. At this point I was the Craft Council's Talent Ambassador for the West Midlands.
In 2018 we moved my studio back to Coventry, as a larger space bacame available closer to home. I also had a gallery called the 'Blue Door Gallery', which I hired out to emerging and established artists. When the gallery space was not in use, I used it to showcase my artworks to customers and for digital craft fairs and virtual studio tours.
In March 2023 I moved my studio back home after seven years of having commercial studio and gallery spaces. I'm looking forward to the next chaper of my studio practice and having more time to focus on my own creativity and opportunities.
A H Contemporary Glass Ltd
---